Welcome to the Prehistoric Wiki ! Feel free to edit any page on this wiki. Please no vandalisim, or actions will be taken to ensure you do not come back!

Heres the list of the extinctions of Earth's Past:
6 Great extinction events :
Ordovician–Silurian extinction event (450 million years ago)
Late Devonian extinction (377 million years ago)
Permian–Triassic extinction event (250 million years ago)
Triassic–Jurassic extinction event (200 million years ago)
Cretaceous–Paleogene extinction event (65 million years ago)
Quaternary extinction event (74,000 years ago)
Minor extinctions: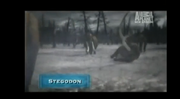 Ad blocker interference detected!
Wikia is a free-to-use site that makes money from advertising. We have a modified experience for viewers using ad blockers

Wikia is not accessible if you've made further modifications. Remove the custom ad blocker rule(s) and the page will load as expected.